Skirting boards
Skirting boards for a carpet edge
There are also solutions to carpeting finish in Salag offer. These are profiles as well as accessories – corners and endings.
Fitting boards to walls
We adjust particular boards to walls, fitting them together with corners. Each board is screwed directly to a wall with screws or pegs.
Fitting carpeting to boards
Take off a tape protecting a self-adhesive layer. Adequately cut strips of carpet are inserted into the interior of the board.
External, internal corner
Perfectly adjusted corners join boards creating the aesthetic whole. They help to form the inserting strip of carpeting in an aesthetic way.
Right/left ending
The aesthetic ending of facing boards. Fitting without the use of glue or tools.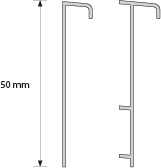 Logistics of facing skirting boards.
Symbol
Name
Length
[m]
Height
Pack
quantity
Colour

1610xx

PVC facing skirting board
2.5
50
40
10-60

1600xx

PVC facing skirting board
2.5
50
40
10-60

160Wxx

inner corner
-
41
12
10-60

160Zxx

outer corner
-
40
12
10-60

160Kxx

right / left ending
-
51
12
10-60