Skirting boards
NGF56 skirting board
The ingenious construction of SALAG Next Generation skirting board allows for its comfortable opening and closing without any tools and provides a wide range of new functionalities. Moving speakers, connecting network, replacing wallpaper or painting walls have never been so easy. It is enough to open an upper part of the skirting board, change wires or wallpaper, then close it with one click and… it is done! And what about a good quality of workmanship and wide range of colours? They are the standard!
The main advantages of NG skirting boards
Open, close and that's all.
A patented construction allows for dismantling and repeat fitting without any tools.

A lot of space for wires
It allows you to put the largest number of wires in a way that makes adding and removing them whenever you need.

Painting and wallpapering without unscrewing skirting boards
Thanks to the open upper part, like no other skirting board, you can paint and wallpaper, and then just mask the upper segment with a masking board.

Immediate fitting
Skirting boards have drilled holes thanks to which the time of fitting is reduced and the problem of chips, requiring removal, eliminated.

Separation of feeder and signal cables
A unique construction allows for separation of wires that is a special advantage while putting simultaneously feeder cables of alternating current (frequency causes disruptions), aerial and signal cables or computer network wiring.

Joining elements almost invisible
The latest technology and the highest quality of skirting boards production make the line of linking almost invisible.

Special double layer technology
Except for the paint, skirting boards are additionally covered with varnish what makes the surface uniform and more similar to the surface of panels. Furthermore, it additionally protects material and paint against the failure of surface and harmful influence of UV rays on material (longer life of skirting boards).

Flexibility of skirting board = ideal fitting
Thanks to the use of hybrid material, a skirting board ideally adjusts itself to irregularities of walls and floors.
Here you can find Fitting NG skirting boards
Distribution of F forces on the Next Generation skirting board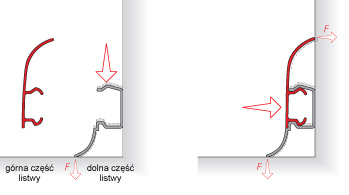 Logistics of NGF56
Symbol
Name
Length
Height
Pack
quantity
Colour

NGF0xx

NGF56 PVC skirting board

2.5
56
32
00-

G4

NG0Wxx

NG56 internal corner
-
56
25
00-

G4

NG0Zxx

NG56 external corner
-
56
25
00-

G4

NG0Lxx

NG56 left ending

-
56
25
00-

G4

NG0Pxx

NG56 right ending

-
56
25
00-

G4

NG0Exx

NG56 coupling

-
56
25
00-

G4

NG0Uxx

internal Universal corner

-
56
6
00-

G4

NG0Vxx

external Universal corner

-
56
6
00-

G4

NG0Bxx

installation box

0.09
158
1
01/02/03